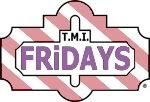 I'm linking up with
The SuperMom Blues
for her TMI Friday. The rules are simple:
1) Write a TMI blog about anything bizarre, weird, or just plain gross that's happened to you (keeping it family friendly!).
2) Take the TMI Friday button and post it into your blog to link back, and
3) Sign up on the linky
I don't normally do the linking thing, but this story was too good NOT to share! I share my humiliation with you, blog readers, in an effort to make you smile this Friday.
Generally, I have a lot I have to remember for the kids every day for Childcare, and Mondays are the worst. On Mondays my oldest son Drew, needs a lunch box, drink, yellow shirt for field trips, his bike (etc); my youngest son Jacob is potty training so he needs new clothes to wear in case he has an accident and his blankets need to be washed each week. It's a lot to remember.
I have grown accustomed to getting all this ready and have decided to do laundry on Sunday nights so Jacob has fresh blankets on Monday. I put all of our clean laundry on our ottoman, so Louie, our rambunctious puppy, doesn't destroy the laundry on the couch.Monday morning this week I bring his blankets and new clothes in a plastic bag and put the whole bag in his cubby at childcare. I think nothing of it.
Six pm on Monday I get a call from Mr. B to let me know he is on the way home with the kids. He tells me a couple things about their day. Mid-conversation, he asks me, "for some reason, did you bring a couple pairs of your panties to childcare?"
"Um, no. What are you talking about?"
"There was a couple of pairs of your underwear in a plastic bag in Jacob's cubby," He says nonchalantly.
Apparently I grabbed a little somethin-somethin' with his blankets and clothes!
At least they were clean, right? I can't even imagine his teacher pulling out those in class. I was/am mortified! What's even worse is that I forgot Jacob's underwear, so it looked like- here is his little boy underwear!
Eventually I am hoping I will be able to look his teachers in the eye again.